Superphobic 1 x 3 Membrane Contactor G650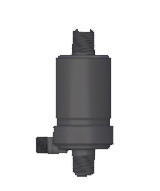 + CLICK IMAGE TO ZOOM
This degassing module effectively removes all gasses dissolved in the InkJet ink, greatly improving the ink performance. 
Principle of operation. The inkjet ink flows along a porous membrane. The pores in the membrane are sized so that only the gas molecules are able to penetrate through it. A vacuum is applied at the other side of the membrane, pulling the gasses out of the fluid. Degassing efficiency depends on the surface area of the membrane and the ink flow rate through the module. Lower flow rates and higher surface area increase the efficiency.
Types of inkjet ink supported: water-based, solvent-based and UV curable.
Description: Polyolefin Fiber PE potting, Black PE Housing 1/4" MNPT Liquid connections 1/8" MNPT gas connection.
Availability: the lead time on this product is 5 to 8 weeks. It's not normally stocked.